Source of Life® Garden™ Men's Multi
Veganes, eisenfreies Multivitamin mit Vollwertkonzentraten für Männer, Bio-zertifiziert
Highest quality
The right choice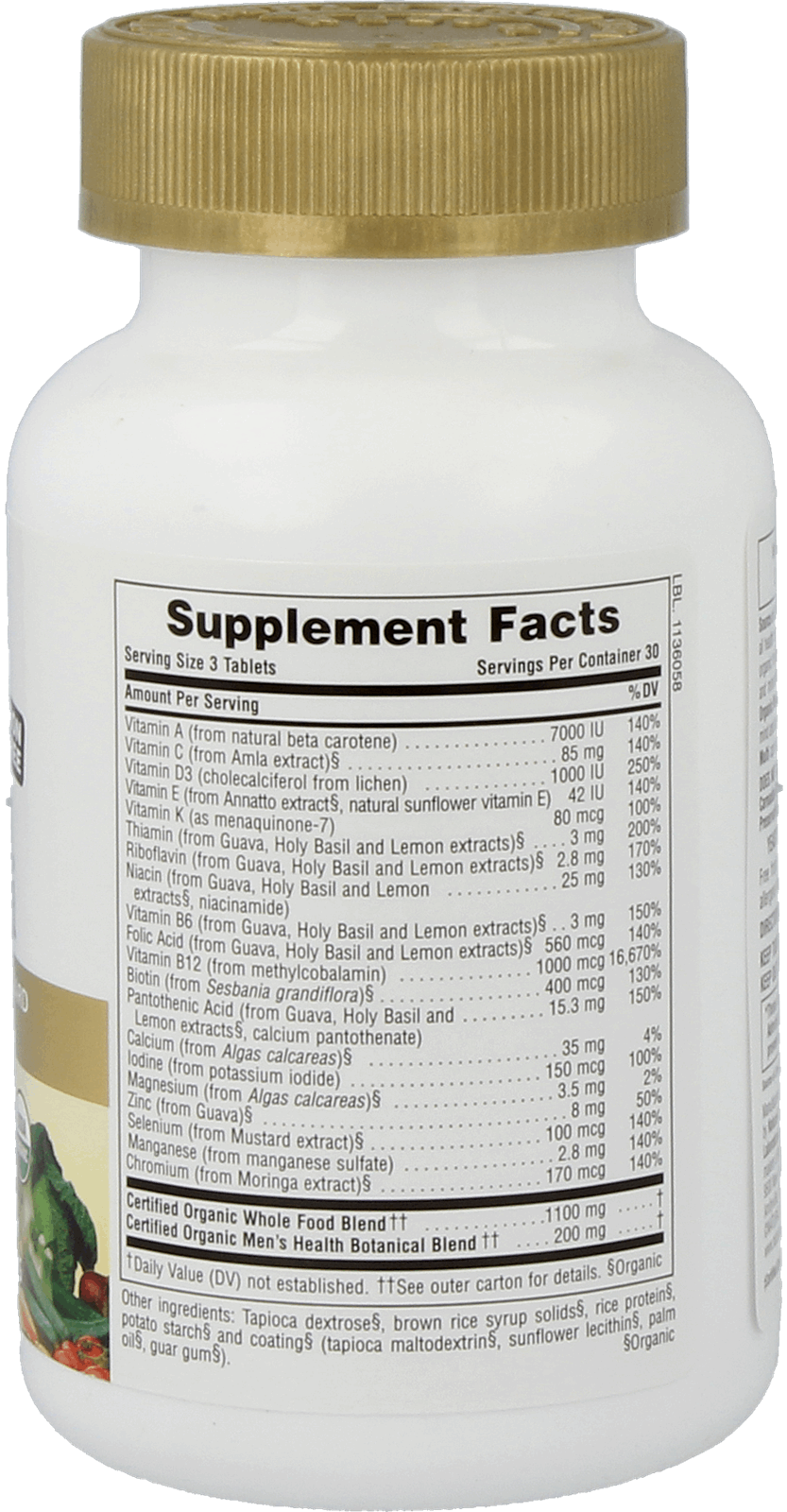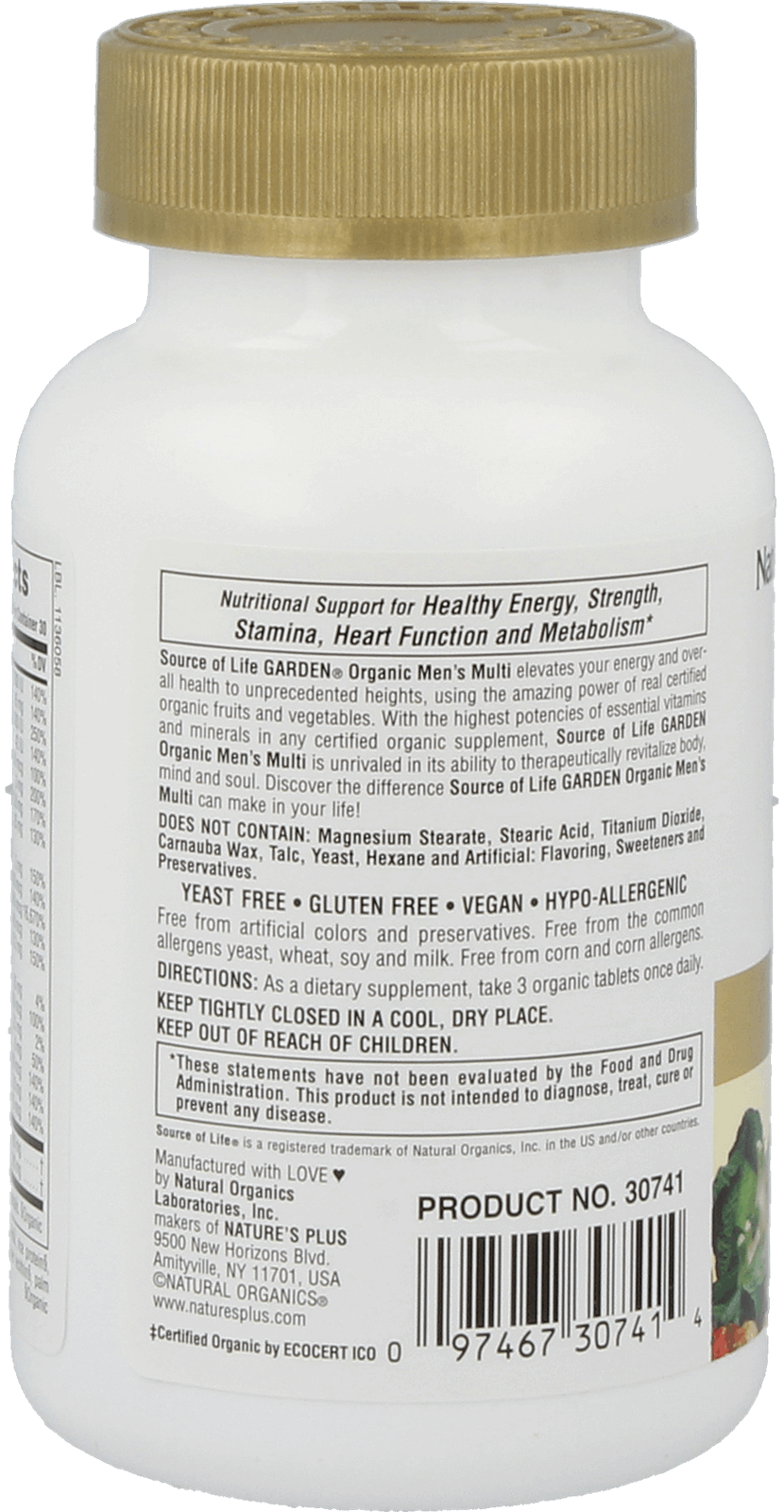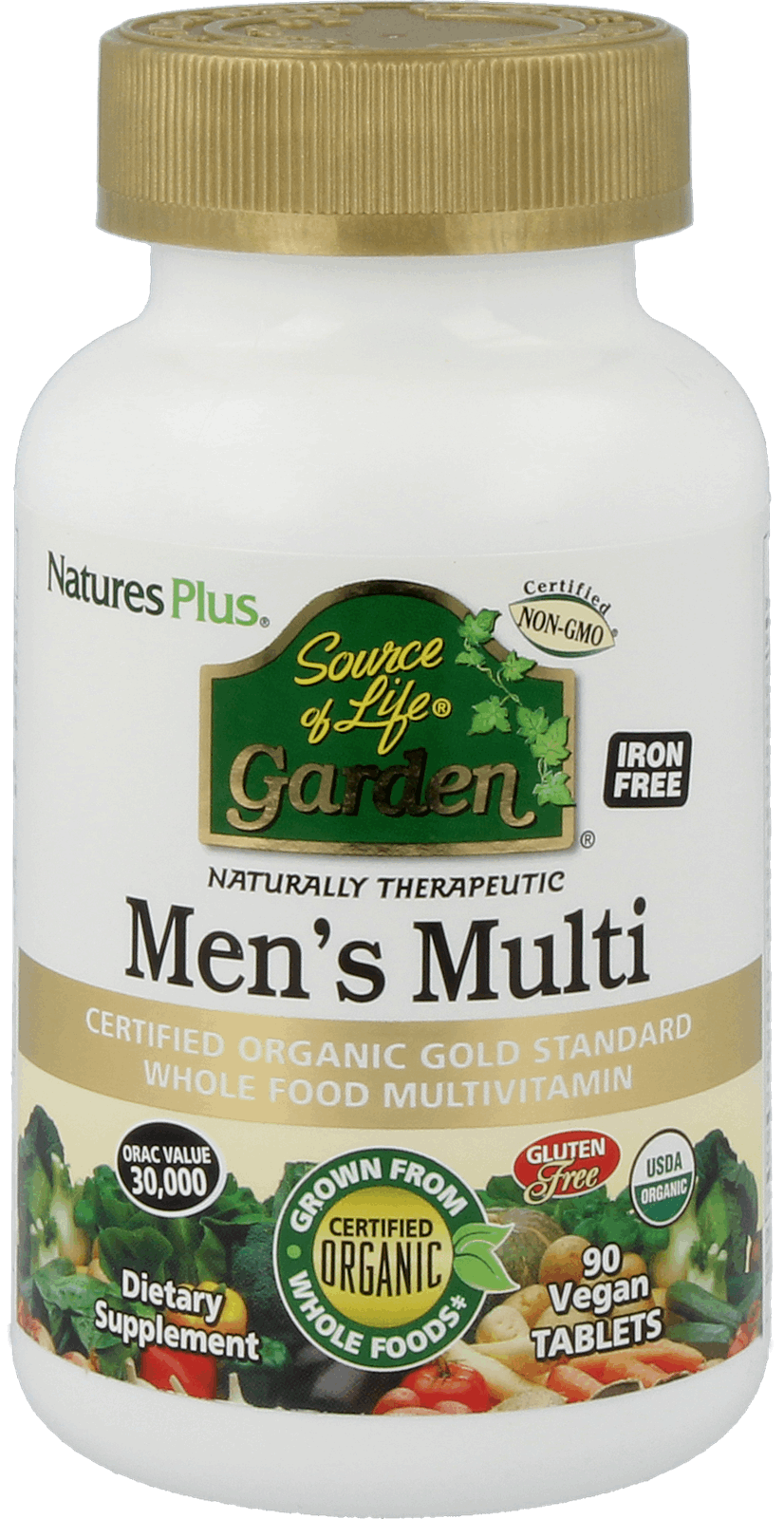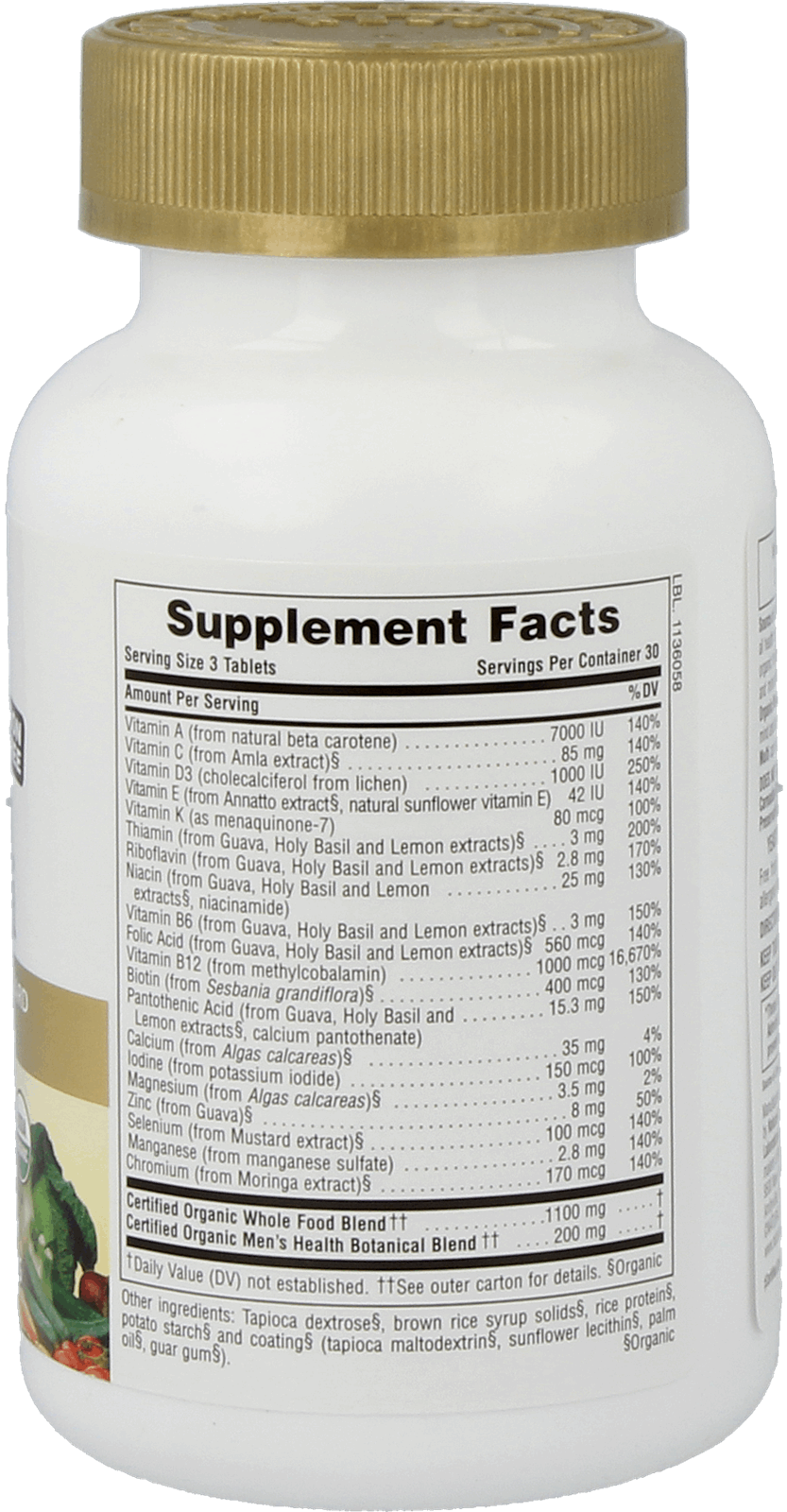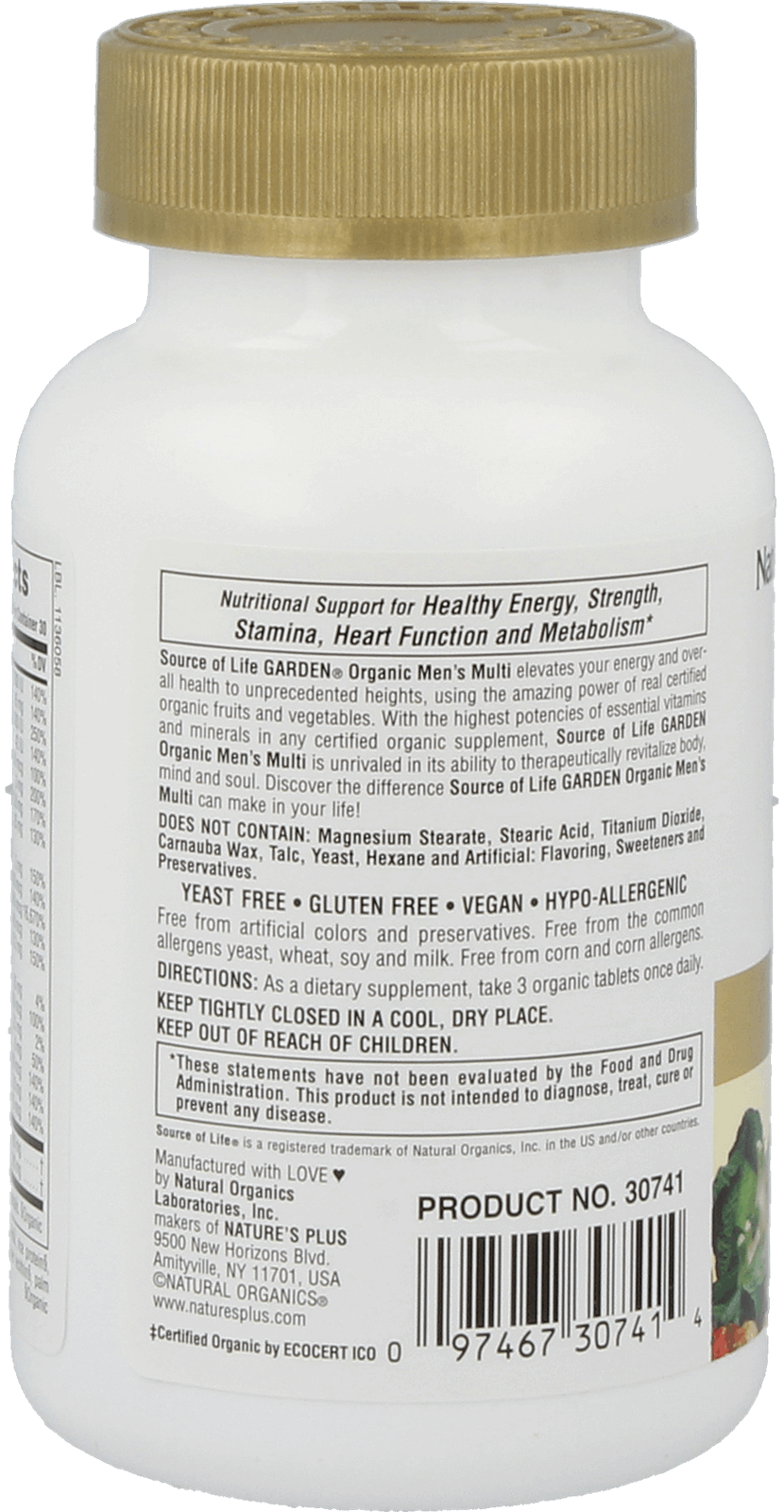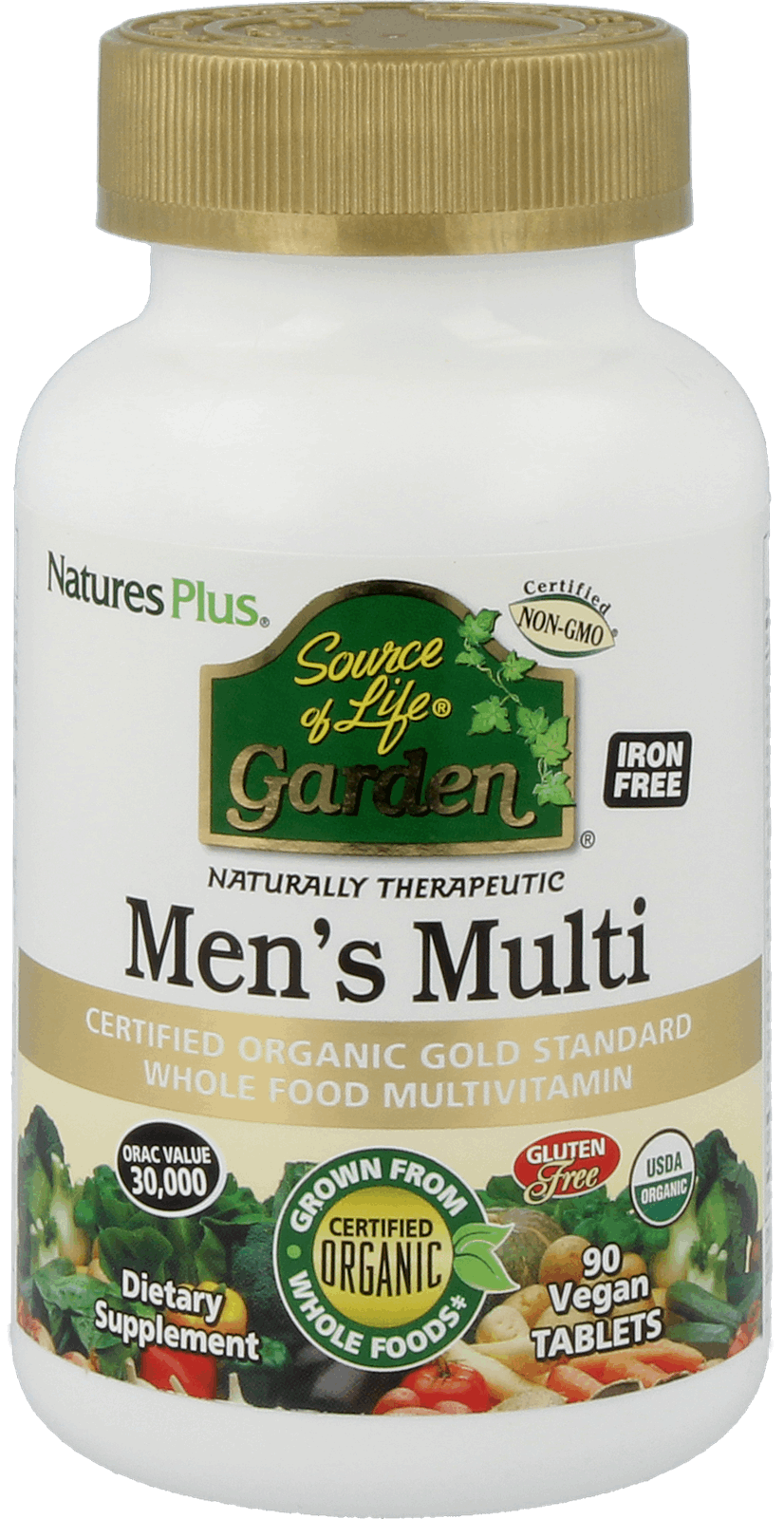 Source of Life® Garden™ Men's Multi
Veganes, eisenfreies Multivitamin mit Vollwertkonzentraten für Männer, Bio-zertifiziert
Highest quality
The right choice
Product information
Wofür steht Source of Life® Garden™?
Source of Life Garden steht für reine, natürliche Nährstoffe aus kontrolliert biologischem Anbau in den USA. Vollwertig mit allen Phytonährstoffen und Co-Faktoren, wie sie in biologisch angebauten Pflanzen vorkommen, liefert diese Produktlinie den Goldstandard für eine gesunde Nahrungsergänzung.
Source of Life® Garden™ Men's Multi
Source of Life® Garden™ Men's Multi ist ein veganes, eisenfreies Multivitamin mit Vollwertmischungen. Es liefert veganes Vitamin D3 aus Flechten zusammen mit den Vitaminen A, C, E und K sowie dem gesamten Spektrum der B-Vitamine. Außerdem enthält es Mineralien wie Calcium und Magnesium aus Meeresalgen in einer pflanzlichen Vollwertbasis, die reich an Vitalstoffen speziell für Männer ist.
Vitamin D
Vitamin D kann der Körper mithilfe der UV-B-Strahlen der Sonne in der Haut herstellen. Sie ist der Ort der körpereigenen Vitamin-D-Herstellung (endogene Synthese). Im Winter ist in unseren Breiten die Sonnenstrahlung aber zu schwach für eine ausreichende Vitamin-D-Produktion in der Haut. Der Körper greift dann - falls vorhanden - auf das in Form von Calcifediol gespeicherte Vitamin D3 zurück. Die Speicher befinden sich vor allem im Muskel- und Fettgewebe. Die Hauptfunktion von Vitamin D im Körper liegt im Bereich der Knochen. Darüber hinaus hat Vitamin D einen günstigen Einfluss auf den Zellteilungsprozess, unterstützt die Abwehrkräfte des Körpers, trägt zur Erhaltung einer normalen Muskelfunktion bei und hilft, das Risiko von Stürzen zu verringern, die mit Haltungsinstabilität und Muskelschwäche einhergehen. Stürze sind ein Risikofaktor für Knochenbrüche bei Männern und Frauen im Alter von 60 Jahren und älter.
Hinweis:
Nahrungsergänzungsmittel sollen kein Ersatz für eine ausgewogene und abwechslungsreiche Ernährung sein.
Vitamin A (as β-Carotene)
233,3 mcg RE
29%
Vitamin B1 (as Thiamine Hydrochloride)
1 mg
91%
Vitamin B2 (Riboflavin)
0,9 mg
66%
Vitamin B3 (as Niacinamide)
8,3 mg
52%
Vitamin B5 (Pantothenic Acid)
5,1 mg
85%
Vitamin B6 (as Pyridoxine HCl and P5P)
1 mg
71%
Vitamin B12 (as Methylcobalamin)
333,3 mcg
13.333%
Vitamin D3 (Cholecalciferol)
8,3 mcg
167%
Vitamin K2 (as Menaquinone-7)
26,7 mcg
36%
Chromium (as Amino Acid Chelate/Complex)
56,7 mcg
142%
Iodine (as Potassium Iodide)
50 mcg
33%
Manganese (as Sulfate)
0,9 mg
47%
*RI = recommended daily intake, ✝ RI not specified
Ingredients: Vitamin A (as β-Carotene), Vitamin B1 (as Thiamine Hydrochloride), Vitamin B2 (Riboflavin), Vitamin B3 (as Niacinamide), Vitamin B5 (Pantothenic Acid), Vitamin B6 (as Pyridoxine HCl and P5P), Vitamin B12 (as Methylcobalamin), Folic Acid, Biotin, Vitamin C, Vitamin D3 (Cholecalciferol), Vitamin E, Vitamin K2 (as Menaquinone-7), Calcium, Chromium (as Amino Acid Chelate/Complex), Iodine (as Potassium Iodide), Magnesium, Manganese (as Sulfate), Selenium, Zinc, Whole Food Blend, Tapioca, Brown Rice, Rice Protein, Potato Starch
Recommended use by the manufacturer:
Contains no known allergens