Liquid Molybdenum
Dilluted ammonium molybdate solution
Highest quality
The right choice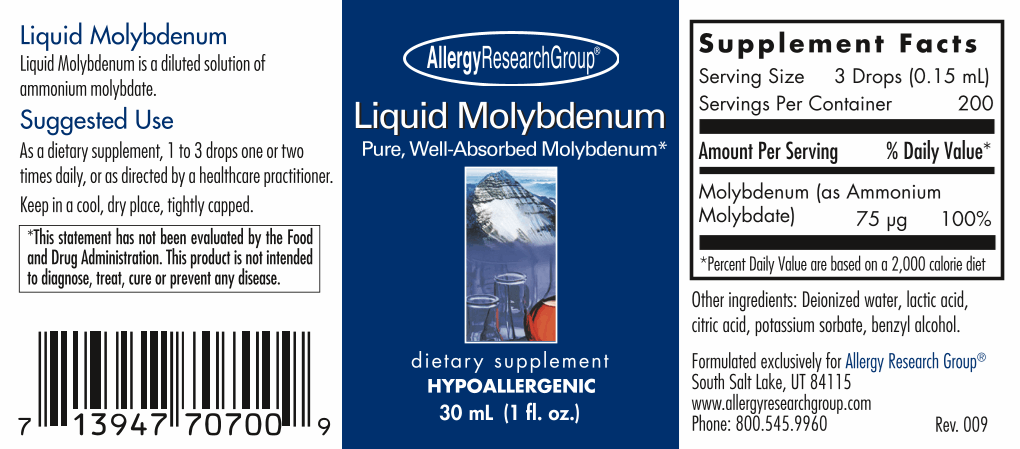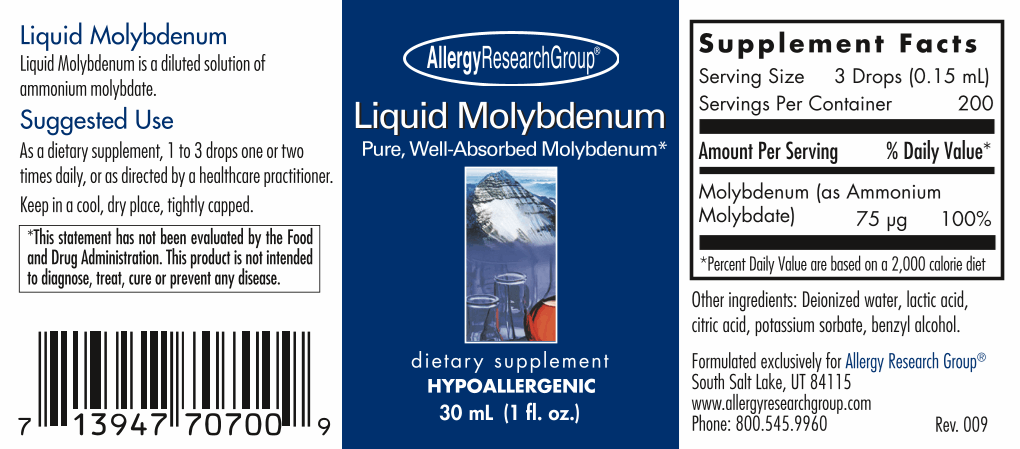 Liquid Molybdenum
Dilluted ammonium molybdate solution
Highest quality
The right choice
30ml Liquid
New delivery on the way - available in 2-6 weeks
Product EAN:
713947707009
Product information
Liquid Molybdenum
enthält 25 µg Molybdän pro Tropfen und stellt eine verdünnte Lösung von Ammoniummolybdat dar. Molybdän ist am Metabolismus von Schwefel, der Harnsäurebildung und der Entgiftung von Sulfiten, Alkohol und einigen Chemikalien beteiligt. Dieses Produkt kann bei Einzelpersonen allmählich auf höhere Dosierungen titriert werden.
Hinweis:
Nahrungsergänzungsmittel sollen kein Ersatz für eine ausgewogene und abwechslungsreiche Ernährung sein.
Molybdenum (as Ammoniummolybdate)
25 mcg
50%
*RI = recommended daily intake, ✝ RI not specified
Ingredients: Molybdenum (as Ammoniummolybdate), Potassium Sorbate, Citric Acid, Benzyl Alcohol, Lactic Acid, Water
Recommended use by the manufacturer:
One or two times daily 1 to 3 drops or as directed by your health care practitioner.
Contains no known allergens